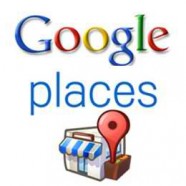 Set Up an Account

Adding a listing takes just three steps. They are:
Submit your information, from basic contact info to photos and video.
Verify your listing by phone or postcard.
Wait for your listing to appear on Google.
To create your business's Places page, Google will crawl the Web and find information about your business from a variety of third-party sources, including Yelp and Yellow Pages.
Once you've set up the listing, it's important to fill out all of the relevant information, including hours of operation, payment options, categories, and additional details. This is not merely to help your customers navigate your Places page. It's to help you, too: the richer in content your listing is, the more prominent your Places organic ranking will become.
Avoid the Common Mistakes

"Don't go keyword stuffing," Watson cautions. "The biggest mistake I see are businesses that go into their Places account and put in 20 different categories for their business. They think that because they can do it, it's appropriate. You should nominate just one category."
It's also important not to forget the basics—like a company phone number.  "People don't realize that Google Places is predominantly about a phone number. That phone number has to be a local phone number, and shown on your website in a format that the Google spider can see." In other words, don't put your phone number in a picture, or a JPEG format.
It's a bit complex, but "citation building" is a common problem for small businesses building their Places account. As its name implies, a "citation" is another website's affirmation about your Google Places listing.
"In order to get a valuable citation, the referring website must list the company information as it appears in the Places Profile," explains one blogger. "That means that the company name and address have to be identical. While that doesn't seem too difficult a concept, consider this – if your business is listed at 300 S Main Street in the Places Profile, but someone cites the address on their website as 300 South Main Street, the value of that citation is diminished. One could believe that such a difference as negligible (S. vs. South), but in the realm of local search every detail matters."
But for all the technical mistakes small businesses make, Chris Watson says there's one major operational mistake that always inhibits the success of a Places campaign: too many cooks in the kitchen.
"It's a not place where everyone can contribute," Watson says. "It has to be very closely monitored."