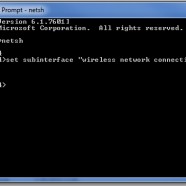 If you have a Motorola Xyboard Tablet and if your going to use it as a hotspot you may run into an issue. I found this out recently when trying to use my new Motorola Xyboard Tablet.
I had no problem connecting to the wifi hot spot the issue I had was it could not access some site, one of which was www.paypal.com as well as www.cuttingedgehobbies.com. I was able to get to www.google.com and some other sites like www.espn.com but for some reason it would not access alot of our client sites. This was a big issue for me.
If you are having the same issue with your Motorola Xyboard Tablet Hotspot on Windows 7 here is the answer.
Step 1: Click on the start button.
Step 2: Click on all programs
Step 3: Click on Accessories
Step 4: RIGHT Click on the Command Prompt and click run as administrator.
Step 5: Please look at the image below to see what you have to enter.
type: netsh, then hit enter
type: interface, then hit enter
type: ipv4, then hit enter
type: set subinterface "wireless network connection" mtu=1428 store=persistent, then hit enter and your DONE.